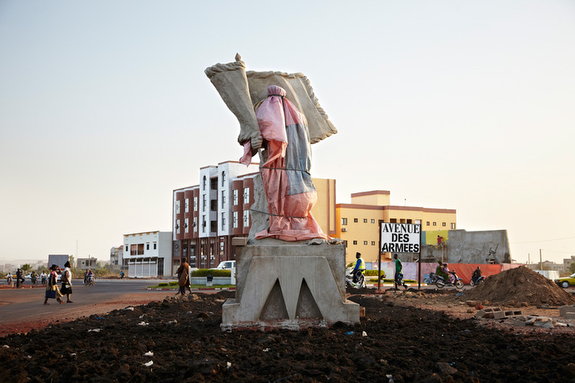 November 2011. Bamako "la coquette" is changing fast. The works in progress create the new image of the Malian capital. In the Sotuba area, near the "sino-malian friendship bridge," Korean artisans build monuments over hundreds of meters, to commemorate the glory of the veterans. In this area looking as a war theatre, between construction and destruction, the sculptures made in the style of socialist-realist works from North Korea tell us a lot about the concerns of the state.
On January 20th, 2012, the Malian army celebrated its 50th anniversary and the officials inaugurated with great pomp the Avenue of the Army with the National Band playing and revived specially for the event. The Avenue of the Army is the symbol of a powerful military force, it is monumental and filled with signs of victory. A paradox at a time when Mali falls into one of its darkest periods in history.
Fifty years after the independence, African States strive to write their memory but chosen aesthetics are often foreign-inspired. Mali Militari is a fable that lets us imagine the dramatic situation that Mali knows, with an army unstructured, unable to cope with the jihadists who threaten the country's political stability and much more.
— François-Xavier Gbré, Abidjan, Ivory Coast