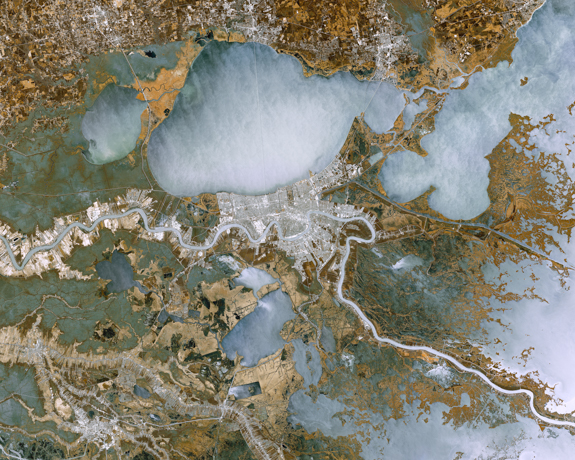 Acting as a mirror in the sky, the remote-sensing satellite allows us to observe the unprecedented growth of humanity and to appreciate the complex systems of the natural world. It reflects the immense power that people, whether in the form of governments or corporations, have over land. From international boundary lines, to visible signs of climate change, the endless spans of industrial agriculture or the deforestation of almost entire continents; it is beautiful and terrifying in its immensity.
The satellite image presents a pivotal opportunity for change as it prompts us to see and approach our problems and solutions in a new way. Looking down upon ourselves the satellite allows us to be conscious of our actions as never before. 
The raw image data for these satellite images are downloaded from NASA's Landsat 8 satellite. I combine several different grey scale images together to create a false color image. The images in this series represent some of the world's most geopolitically controversial areas. A written story accompanies each image in the gallery installation and can be read on my website. 
— Jeremy J. Starn, Barkhamsted, Connecticut, USA