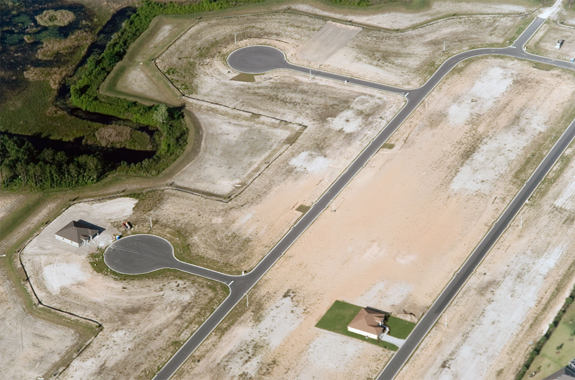 Florida's inland highways are littered with signs announcing residential development opportunities, proclaiming "A Great Place to Live!"
Sprouting subdivisions are replacing orange groves, palmettos and cattle land. These primarily-agricultural spaces have been converted into speculative housing, riding the wave of Florida's latest cash crop. However, the idyllic roadside billboards paint a much different picture than the life in these undeveloped and ghostly instant-communities. Promises of fulfillment of the American dream crumbled since the beginning of the real-estate bust in 2007.
The aerial photographs of central Florida's arrested suburban developments create patterns of human habitation in crisis. From the air, negative imprint of suburbia and its effect on nearby farmland and forests is evident.
This project seeks to evaluate the liminal landscape of central Florida by using the vantage point of aerial photography and juxtaposing it with images from within these unfinished and abandoned cul-de-sacs.
— Daniel Kariko