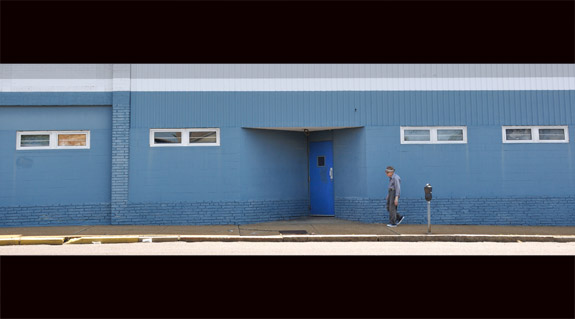 Letterbox is a collection of panoramic photos reminiscent of the cinematic formatting of large screen imagery. By purposefully placing black bars at the top and bottom of each photograph, I'm making the statement that this is the original intention of the composition.
The Letterbox images take on the look and feel of Hollywood movie sets, often void of any characters, but left wide open for interpretation and the viewer's imagination. We surmise that these photos have been taken prior to or just after an event. The blank scenes invite audience participation and encourage scrutiny of details in search of a plot or sequence of action.
Getting an audience to stop, examine and interact with 
my photographs has always been a priority in presenting my art. I recall a college professor from many years ago who would project a photographic portrait of someone we've never seen before and say "Tell me everything we know about this person." It was an excellent experiment to teach us to look for clues, hints, details, backgrounds, moods or emotions in a photo and translate those observations into words.
— Larry Torno, University City, Missouri, USA