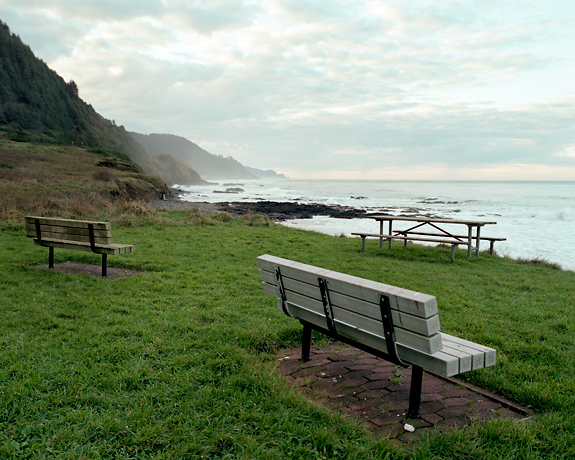 "All the past we leave behind,
 we debouch upon a newer mightier world, varied world,
 Fresh and strong the world we seize, world of labor and the march,
 Pioneers! O pioneers!"
 – Walt Whitman, 1865
Pioneers! O Pioneers! is a survey of the modern American west, looking at a forgotten and rutted history of western expansion across the nation via rivers turned emigrant trails turned train tracks turned interstate, sprawling though still largely un-tamed and under-developed land, with much of it re-claimed, or "won" back, from the hand of progress.  
So far I've traced back roads and emigrant trails through Nebraska, Wyoming, Idaho, and Utah, as well as taken a small glimpse into the way we both use the land of the west and strangely recast history to make it tourist-friendly, as seen in Oregon and Colorado.
The project stems from my childhood fascination with the emigrants who first journeyed west as distorted and immortalized for a very different generation and audience through the computer game Oregon Trail, and also through my adult travels through the west where I have found and been inspired by a vast, beautiful, and empty America. I have plans to head back west to New Mexico and California over the new few months to continue the project.
— John Loomis