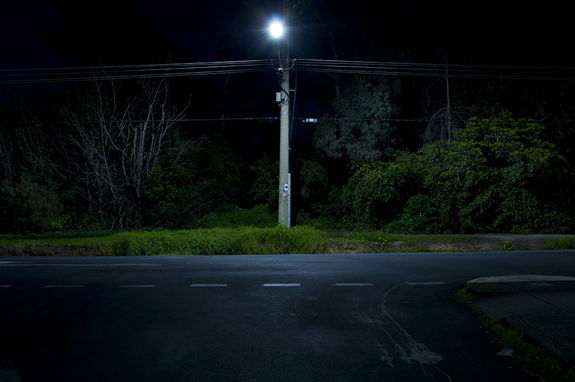 We see the suburbs as ugly; we lament the loss of natural beauty. 
We rush around by day filling every second, yet feeling completely unfulfilled. 
And while we sleep wondering what it's all about and perhaps dreaming of what once was, 
the silent beauty of the landscape returns; altered, yet still there.
People have described my work as dark and menacing, with a foreboding quality, but I think this is more to do with the viewer's own perceptions, formed by influences like human nature, upbringing and a paranoid media; which push the idea that bad things happen at night. For me, these are places that have a certain magic to them, rather than menace.
While the urban landscape is full of activity by day with people and cars, my photos are absent of these so as not to distract the viewer. There is a distinct absence of people because human nature first draws our attention to figures, and away from the landscape. The focus of my photography isn't on people but on place, on the landscape itself.

My series, Suburbs at Night, is an ongoing exploration started in 2009 that attempts 
to seek out these spaces and the landscape that remains, although forever changed, still timeless.
— Ben Kelly, Melbourne, Australia