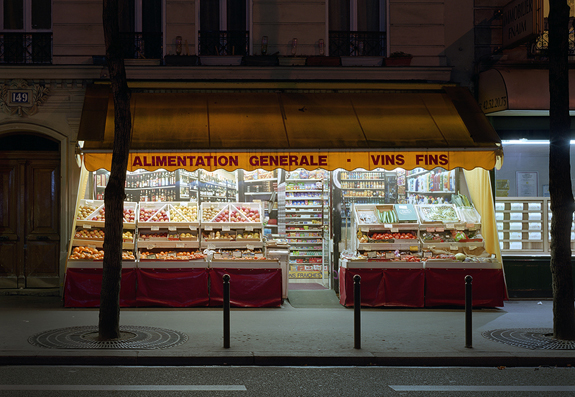 Since 2010 I have photographed with a view camera the fronts of neighborhood grocery stores in Paris by night. No human presence is fixed on the sensitive surface of the film, voluntarily.
Located in every neighborhood, often open late at night, those little grocery stores are typical (quintessential) of the Parisian urban landscape and urban life.
Point of exchange and meeting point for residents in the neighborhood, points of light in the sleepy town by night, these places gradually disappear, replaced by large retail chains.
With this disappearing it's a page of French history intimately linked with North Africa that flies away, as well as know-how of how delicately to harmonize fruits and vegetables on colorful stalls, which still encounters the gray tarmac of the city to the delight of eyes — yes, but for how long?
— Marie Hamel, Paris