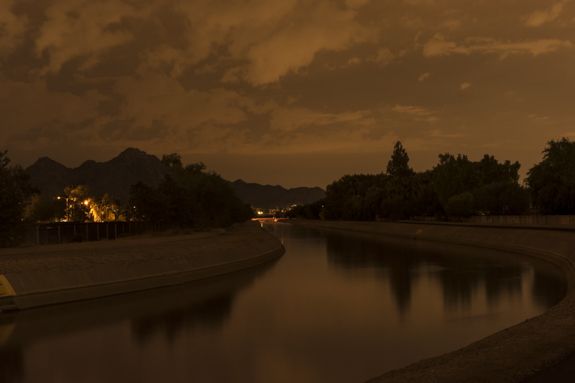 Phoenix is intense and harsh under the daylight sun, yet magical and beautiful at night when color is sultry and saturated – it's palatable. A time when color reveals itself as tangible. I want to capture this heady mix within the urban landscape. Deliberately devoid of humans, my photography centers on architecture, streetscapes, city vistas – the lesser seen and the unseen within a human built framework.
Night Water is my third series exploring Phoenix at night — focused solely on the nine canal systems. Scenes here are from portions of two of the nine.
I am motivated by not knowing what I will find — yet knowing I will find something. Something beautiful, intriguing and worthwhile. It's within this process; seeking, seeing, capturing — this is where I am most at home, this is where I want to be — here in the desert, at night.
— Catherine Slye, Phoenix, Arizona, USA